Organising the wedding of your dreams in the beautiful city of Rome, requires meticulous planning. You need to pay attention to every little detail to make sure everything runs smoothly on the day.
Planning a wedding in Rome means having to juggle deadlines, fix appointments, and adjust to tight schedules.
The day you've always dreamed of deserves to be the best day of your life.
A religious or civil ceremony?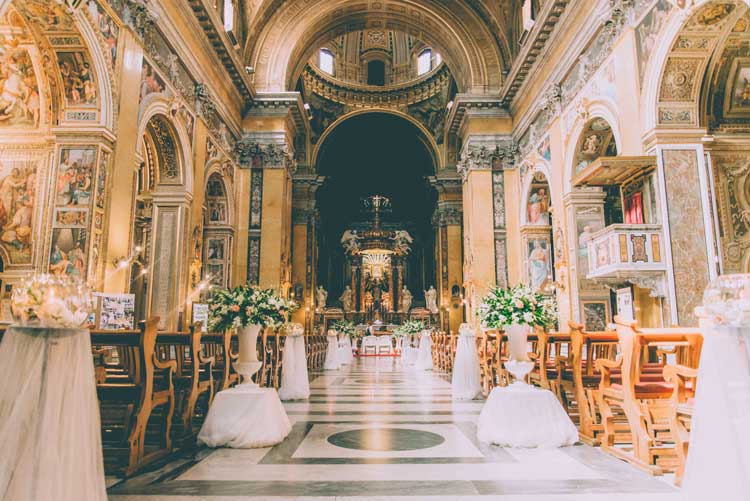 The first question you need to discuss with your partner is whether you want to have a religious or civil wedding ceremony.
Alternatively, or possibly in addition, to these two main types, there is also a third way; a symbolic ceremony with a purely spiritual value. Without any legal standing and, therefore, without any "contractual obligations", at the ceremonial level, it leaves ample scope for customisation.
Whether you want to be true to tradition, or you prefer to adapt your marriage and take on board the latest trends and fashions, this is the guide for you. Whichever route you choose, to make sure you will have an event you will look back on happily for a very long time, it's advisable to entrust the professionals with the catering, decoration, and design of the ceremony.
However, if you do decide to plan most of your wedding on your own, we can provide you with an in-depth guide on the various steps you'll need to take to ensure that it goes without a hitch.
Choosing the Church for your wedding in Rome
Choosing a religious ceremony for your wedding is important, even more so when your faith is accompanied by your desire to fulfil your dream in the parish in which you were born and grew up, and to which you have been closely connected since childhood.
Finding a Church where you can celebrate your wedding, in a beautiful setting that only Rome can offer, which meets all your expectations, shouldn't be too difficult, should it? Yet, in reality, it often becomes an impossible quest to book the church of one's dreams at the time you want it, taking into account the number of wedding guests that need to be accommodated and the emotional bond that the spouses have with the church.
In such situations, flexibility is the watchword. Be prepared to move the date you initially set by a few weeks, either forwards or backwards!
In the next article, we will give you a selection of the most beautiful churches in Rome, some more well-known than others, that will be a useful guide to the many couples who intend to get married in the Roman capital.
Choose the location for your civil wedding
Without wishing to diminish the importance of faith in the couple's choice of venue, sometimes it is advantageous to search for the location in which to celebrate their marriage in areas other than their own parishes..
The choice could be dictated by your desire to have your wedding in a place that is reasonably close, with outdoor spaces, a unique venue with an unspoiled environment, not hemmed-in by four walls.
It has to be taken into account that, in order for a civil marriage to be considered valid, the ceremony must take place in a 'Casa Comunale', i.e. any venue under the legal jurisdiction of the Municipality, in accordance with Art. 106 of the Italian Civil Code This is a venue that must be used for the performance of institutional functions and for wedding ceremonies.
For this reason, for the celebration of your wedding, it is important to choose a location that is on the list provided by your municipality of residence, or rely on the managers of private venues who have experience in the organisation of weddings.
Casale Consolini: an ideal venue for your wedding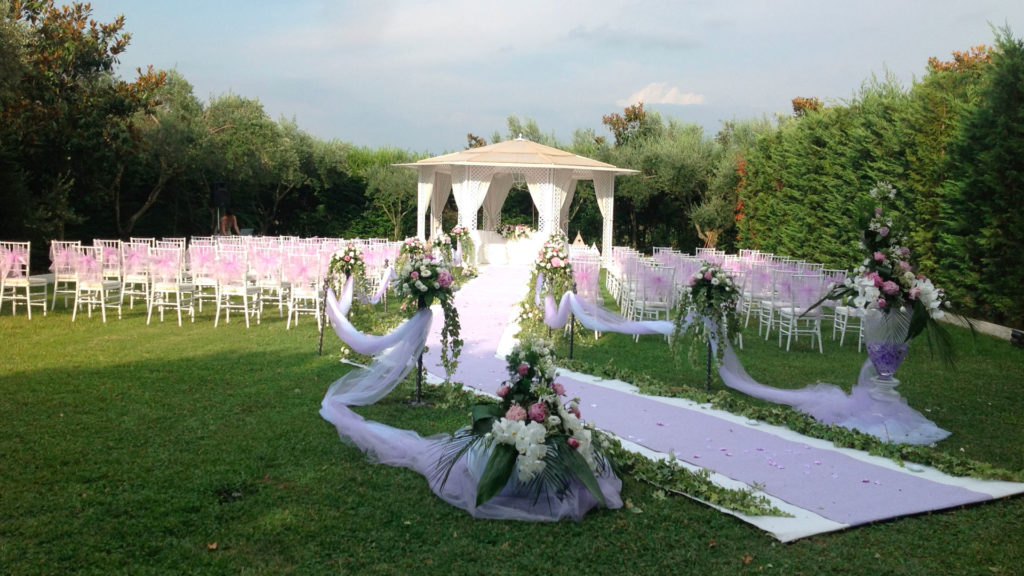 In this situation, Casale Consolini could be an excellent alternative, surrounded by the green hills of Rome, for your symbolic wedding ceremony or your reception.
With its unique atmosphere, the play of light and water, the scenic pool, the special effects, and the floral installations, Casale Consolini is definitely not an ordinary place but a magical setting for the day you say "I do".
To the majesty of the location itself is added our almost half a century of experience, innovation, and expertise in the organisation of wedding ceremonies, specifically in banqueting.
You can celebrate your symbolic ritual, or hold a traditional wedding reception, in the shade of centuries-old trees, surrounded by fragrant flowerbeds and bushes, in a sophisticated, exclusive and refined setting.
Intimate Weddings: the Hotel Piccolo Borgo
If you prefer a more intimate ceremony for your special day, with only your closest family and friends in attendance, the location must be welcoming for your guests and make them feel at home.
For anyone who wants such an intimate ceremony with an intimate family atmosphere, we can offer you an exclusive venue in the Roman countryside, the Hotel Piccolo Borgo.
This is a unique venue in which to hold an intimate wedding, far away from the hustle and bustle of the city. Enjoy your dream wedding in the tranquillity of a small corner of earthly paradise, which can accommodate up to 70 people.
Plan every detail of your wedding with care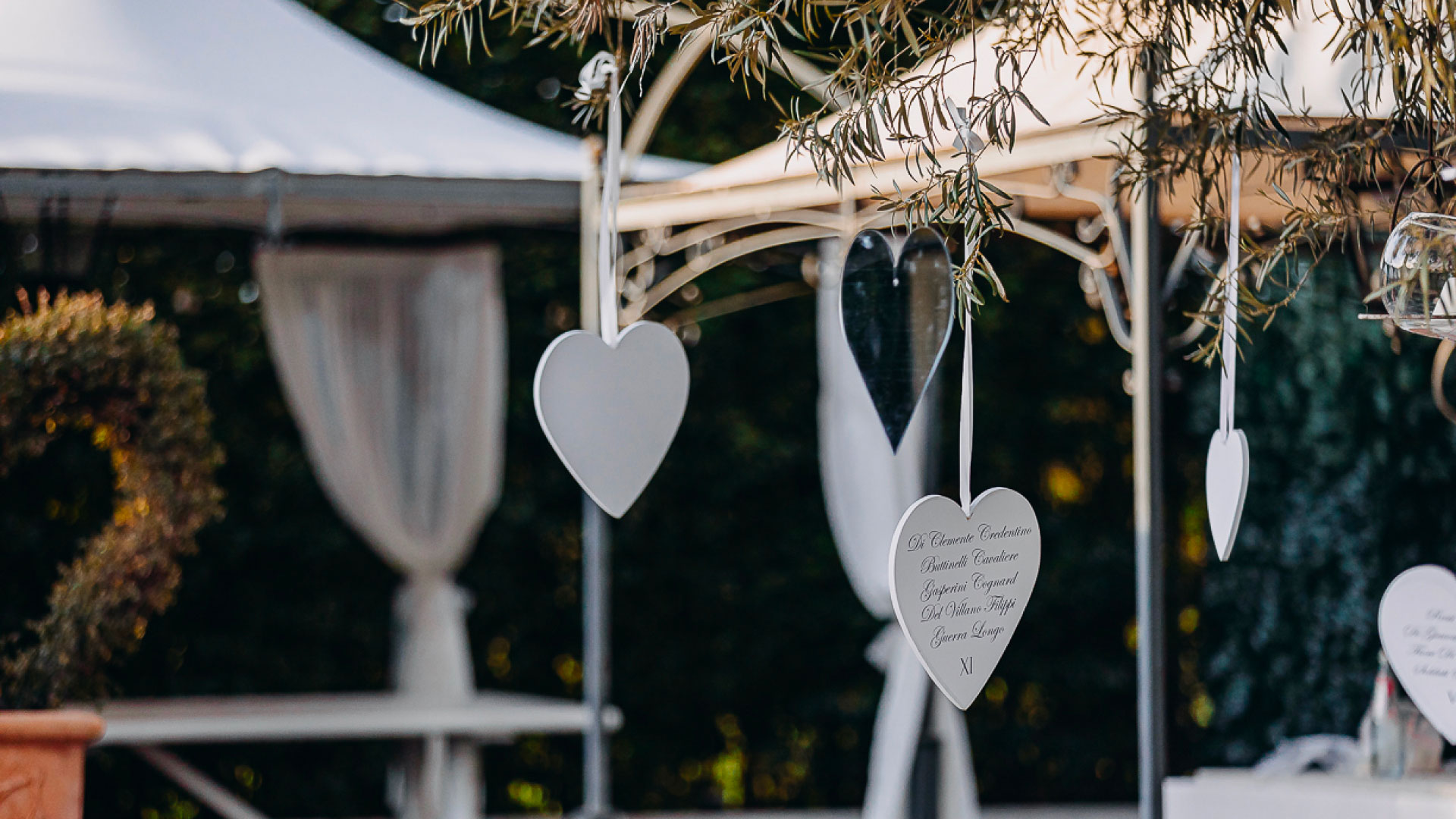 Once you have chosen the type of ceremony you want and the most suitable location, you now need to organise every aspect of your ceremony without getting lost in the myriad details that you need to manage to make your special day memorable for years.
The attention to detail will be the making of the event. There is an almost infinite choice of installations available. You will first need to choose the general style you want for your event, from the most popular shabby chic, country, vintagebaroque, minimalist, up to the most unusual and special trends.
Inspired by the creativity and aesthetic taste of a wedding planner, you will create the perfect setting, with paths lined with candles, floral installations, balloons, romantic garlands, and hanging lights.
For a fairytale wedding
After you have outlined the concept in your head, think about how you would like to see it realised.
Refine your ideas, possibly by asking the advice of experts in the industry. With the right partners, organising the wedding of your dreams will no longer be a daunting undertaking, but a successful and enjoyable venture.
You can create a truly fabulous wedding, unique and unforgettable, that will remain in the minds and hearts of your guests for years.